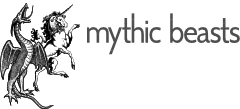 We are hosting at Mythic-Beasts – an excellent UK based hosting company, who are kindly sponsoring the hosting of the RetroPie project so we have additional hardware and bandwidth to play with (we use approximately $400 of bandwidth every month).
Mythic-Beasts also host the main RaspberryPi site at https://www.raspberrypi.org/ – so we are well at home.
You can find more about Mythic-Beasts' involvement with the Raspberry Pi over at their blog – http://blog.mythic-beasts.com
We are currently hosted on their VPS 8 offering (with additional bandwidth), which is a virtual server with 2 Cores, 8GB RAM and 160GB storage.